Miami Beach, Florida(Hexa PR Wire–July 1, 2023)–Michael Peres announces a new addition to the digital media landscape, Block Editorial, a platform specializing in delivering news and insights on the sectors of Web3, blockchain, and cryptocurrency.
Exploring Block Editorial
As the technology behind cryptocurrency, blockchain, NFTs, and Web3 continues to advance, keeping abreast of the shifts and trends becomes increasingly important. Block Editorial aims to cover these sectors, offering readers an assortment of news, analyses, and viewpoints. The publication strives for accuracy and timeliness in its coverage of these complex and rapidly evolving areas.
Michael Peres: Founder of Block Editorial
Michael Peres, occasionally referred to as Mikey Peres, is the founder of Block Editorial. Peres, a software engineer and journalist, has been involved in founding several other digital publications, including Her Forward, Israel Now, Breaking 9 To 5, and Peres Daily.
Block Editorial's Mission Statement
Block Editorial is committed to delivering high-quality, precise, and timely news coverage on the rapidly evolving world of cryptocurrency, blockchain, Non-Fungible Tokens (NFTs), and Web3. As a trusted news source, the platform is dedicated to offering its readership valuable insights, in-depth analysis, and innovative perspectives to enhance their understanding of this cutting-edge industry.
Cryptocurrency, blockchain, NFTs, and Web3, as Block Editorial believes, are setting the stage for the future in finance, commerce, and communication. The media outlet is thus devoted to keeping its readers abreast of the latest developments in these sectors. Its team, comprising seasoned journalists and industry experts, works round the clock to discover the most crucial stories, trends, and issues in the Web3 world, presenting them to the audience in an understandable, succinct, and accessible way.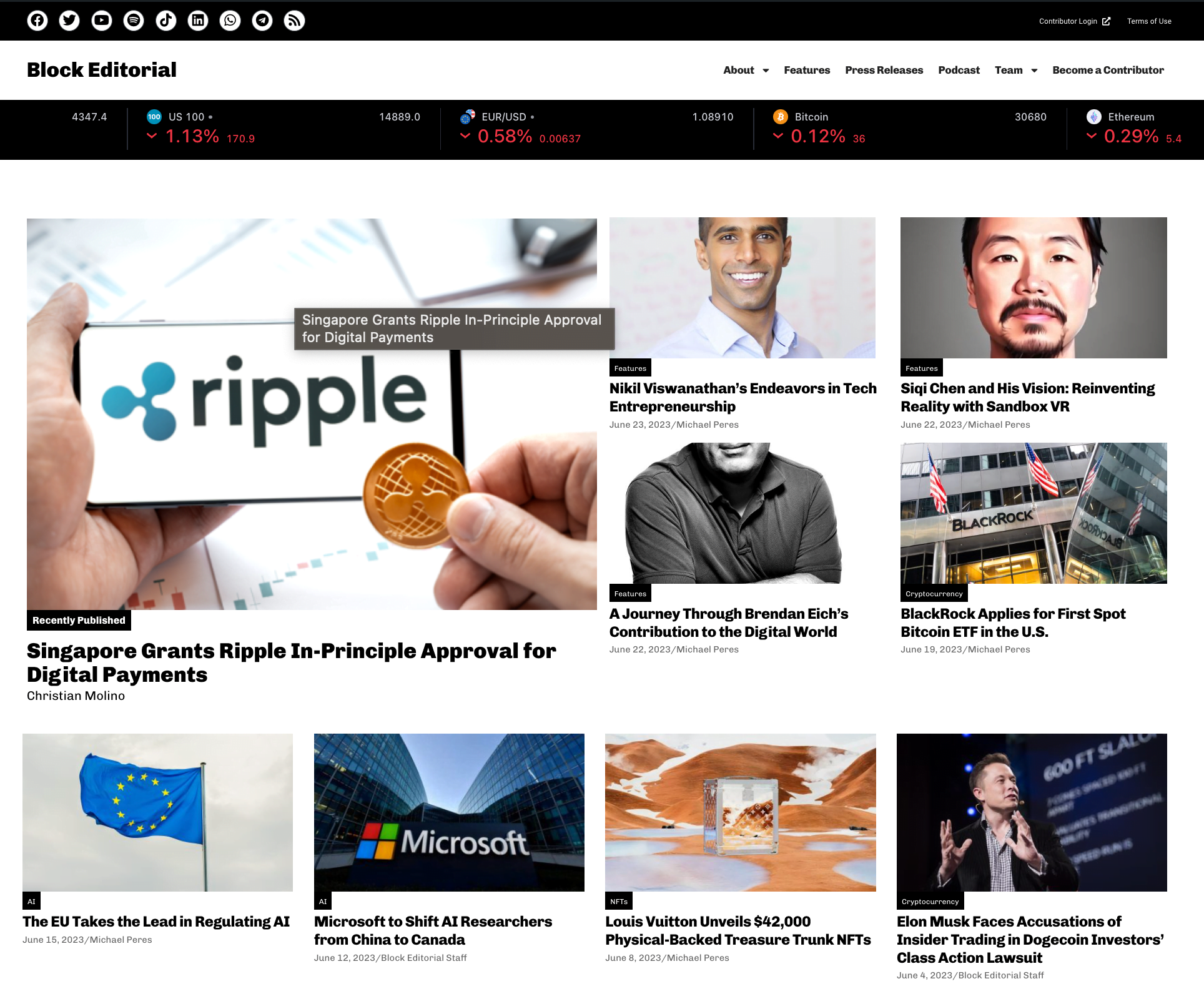 Focused on reader education and empowerment, Block Editorial assists its audience in confidently exploring and comprehending this intricate yet thrilling domain. Upholding the principles of journalistic integrity, transparency, and independence, Block Editorial aims to shape the future of this swiftly expanding industry through their unparalleled news coverage of cryptocurrency, blockchain, NFTs, and Web3.
Powering Block Editorial: Scale My Publication
Block Editorial's operations are powered by Scale My Publication, a comprehensive solution provider for digital publishing. Addressing a wide range of online publication needs, Scale My Publication facilitates content creators to concentrate on developing unique content, while expertly managing the remaining operational aspects.
The scope of services offered by Scale My Publication ranges from website design and development to content management and promotion. With an innate understanding of the intricacies involved in running an online publication, their team provides solutions customized to the unique requirements and aspirations of their clients.
As an integral part of Block Editorial's expansion strategy, Scale My Publication underscores its commitment to fostering growth in the digital publication arena. This partnership represents a synergy of their mission to simplify operational complexities for online publications and their commitment to empower and inform readers in the rapidly evolving world of Web3.
Contact Information
Michael Peres, website: www.michaelperes.com
Michael Peres, email: info@blockeditorial.com
This article was originally published at: https://hexaprwire.com/block-editorial-the-latest-publication-announced-by-michael-peres/